Bringing the power of AI to your research and developmentA low-cost AI analysis platform that performs
with a small amount of data and without the need for programming.
Multi-Sigma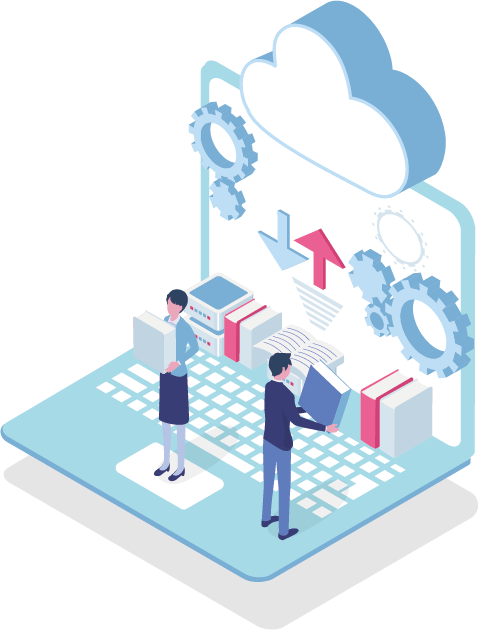 Are you having problems adopting AI?
Multi-Sigma can assist professionals with the following problems:
Engineers
A lack of confidence in the quality of AI analysis you will receive
Uncertainty if AI analysis will generate useful information
Integrating with an existing system
Concerns about the compatibility of AI analysis with your existing systems.
Insufficient and disorganized data
Inability to communicate the process of AI analysis to others
Business executives
Concerns about the cost of adopting AI
Lack of human and educational resources for adopting AI
Not knowing where to start for AI adoption
Concerns about potential security risks
Supercharge your research and development with Multi-Sigma's "Innovative Simulation Design Method"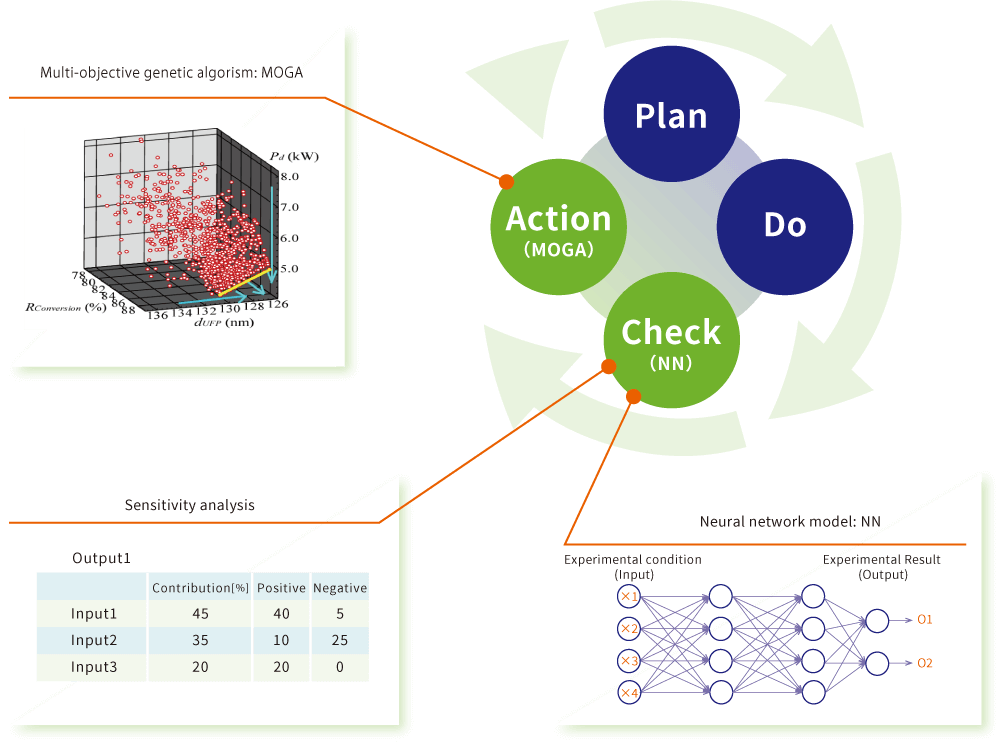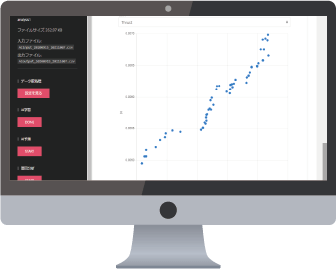 Multi-Sigma's Features
High prediction accuracy
Experimental design can be random and easily achieved
Independency of explanatory variables is not a constraint
Simultaneous predictions of several objective variables with high scalability and flexibility
High accurate and easy
"Multi-objective optimization"
Case Study:
Optimizing the design of an artificial heart using Multi-Sigma to improve multiple features and reduce side-effects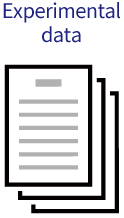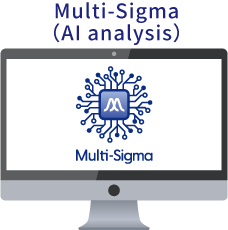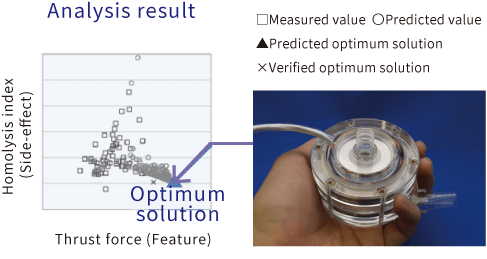 Reducing workload in experiments and improving efficiency in development
Multi-Sigma can perform analysis with data sets as small as 20. In an artificial heart design, where more than 7,000 experimental conditions are expected, Multi-Sigma successfully produced an optimum design from 60 simulations (1/120 workload). In this research work by Advanced Industrial Science and Technology, we not only reduced the workload by 1/120 to produce the optimum design but also unearthed new knowledge through the power of AI.
Other applications







The advantages of Multi-Sigma
Most machine learning tools provide only one function, either prediction or optimization, and in the case of prediction, that predicts only one objective variable. Multi-Sigma can predict multiple-objective variables simultaneously and execute multiple-objective optimization from prediction seamlessly.
In addition, deep learning analysis requires the proper setting of parameters (hyperparameters) during training AI to achieve high accuracy. Multi-Sigma automatically explores the optimal hyperparameters and improves the accuracy of prediction even with a small amount of experimental dataset.
Multi-Sigma can provide professionals with the following benefits:
Engineers
High quality AI analysis
Useful results
Ease of use – all you need is a Web browser
Start with as little as 20 data sets
Ease of communication – explain your AI processes easily to an external audience
Business executives
Low-cost system development and installation offers value for money
Accessible to all
Easy installation
Secured under Google Cloud's environment
Reduced environmental footprint for your business
Let us assist you in your installation of Multi-Sigma!
Our consultative model is designed with your success in mind. AIZOTH's world-class AI researchers and engineers offer you support each step of the way from product installation to data analysis.
Service Details
Our online course covers the following topics:

fundamentals of AI operations
Multi-Sigma training
technical on-the-job training based on your business or project needs
making sense of your analysis results

Strong point
World-class researchers and engineers offering support for Multi-Sigma introduction and installation.
Working period
3 months~
Cost
¥3,000,000~(Fee varies depending on your requirement)