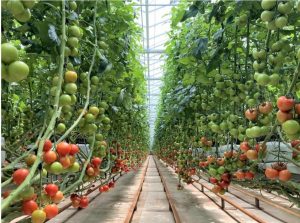 AIZOTH Inc. has developed an AI-based fresh tomato yield forecasting system in collaboration with Kagome Co. Ltd., a subsidiary of Kagome Agri-Fresh Co. Kagome has actually installed this system in a large-scale vegetable garden where Kagome brand fresh tomatoes are grown from February 2022.
In the future, we will support the introduction of this technology in other large vegetable gardens that supply fresh tomatoes to Kagome, and contribute to the establishment of a sustainable agricultural production and supply-demand system.
Purpose and Background of Development
Kagome has been engaged in the business of growing and selling fresh tomatoes since 1998. The production of fresh tomatoes is affected by various factors such as temperature, humidity, amount of sunlight, plant condition, and fertilizer application, and production management has become increasingly difficult due to recent climate change. In addition, the accuracy of yield forecasting is a highly important management indicator not only in terms of business, such as food loss reduction, but also in terms of social contribution, as it is the basis for formulating highly accurate business plans.
In the past, the company formulated sales plans for fresh tomatoes (for the current week to several weeks ahead) by integrating data such as accumulated temperature information and yield forecasts based on the experience of vegetable garden staff. Therefore, large forecasting errors were inevitable due to the inexperience of the person in charge and yield fluctuations that could not be predicted with conventional methods, resulting in over- or under-planned quantities, resulting in shortages and waste.
In order to drastically solve the above problem, AIZOTH, together with Kagome and Kagome Agri-Fresh, has developed a fresh tomato yield forecasting system utilizing AI (Artificial Intelligence deep learning function).
By utilizing the proprietary big data on cultivation techniques and management that Kagome has accumulated to date and the most advanced AI analysis technology, we have created a yield prediction model and constructed a yield prediction system that can be used on a daily basis in vegetable gardens. This system has made it possible to improve the accuracy of yield forecasting several weeks in advance, which has been significantly less accurate with conventional yield forecasting methods.
It is also possible to continuously improve the accuracy of the system's predictions by utilizing big data related to cultivation management that is accumulated daily in vegetable gardens.
Future Plans
This system has already been introduced and is currently being used at five large vegetable garden locations that grow fresh tomatoes for the Kagome brand. The introduction of this system is being considered for other vegetable gardens as well.
Kagome Co., Ltd.
| | |
| --- | --- |
| Company Name | Kagome Co., Ltd. |
| Founded | 1899 |
| Established | 1949 |
| Company Representive | Satoshi Yamaguchi, President |
| Paid-in Capital | 19,985 million yen |
| Number of Employees | 2,822(Consolidated, as of December 31,2021) |
| Head Office Address | 3-14-15, Nishiki, Naka-ku, Nagoya, Aichi 460-0003, Japan |
| Principal Activities | Purchase, manufacture and sale of seeds, seedlings, fruits and vegetables |